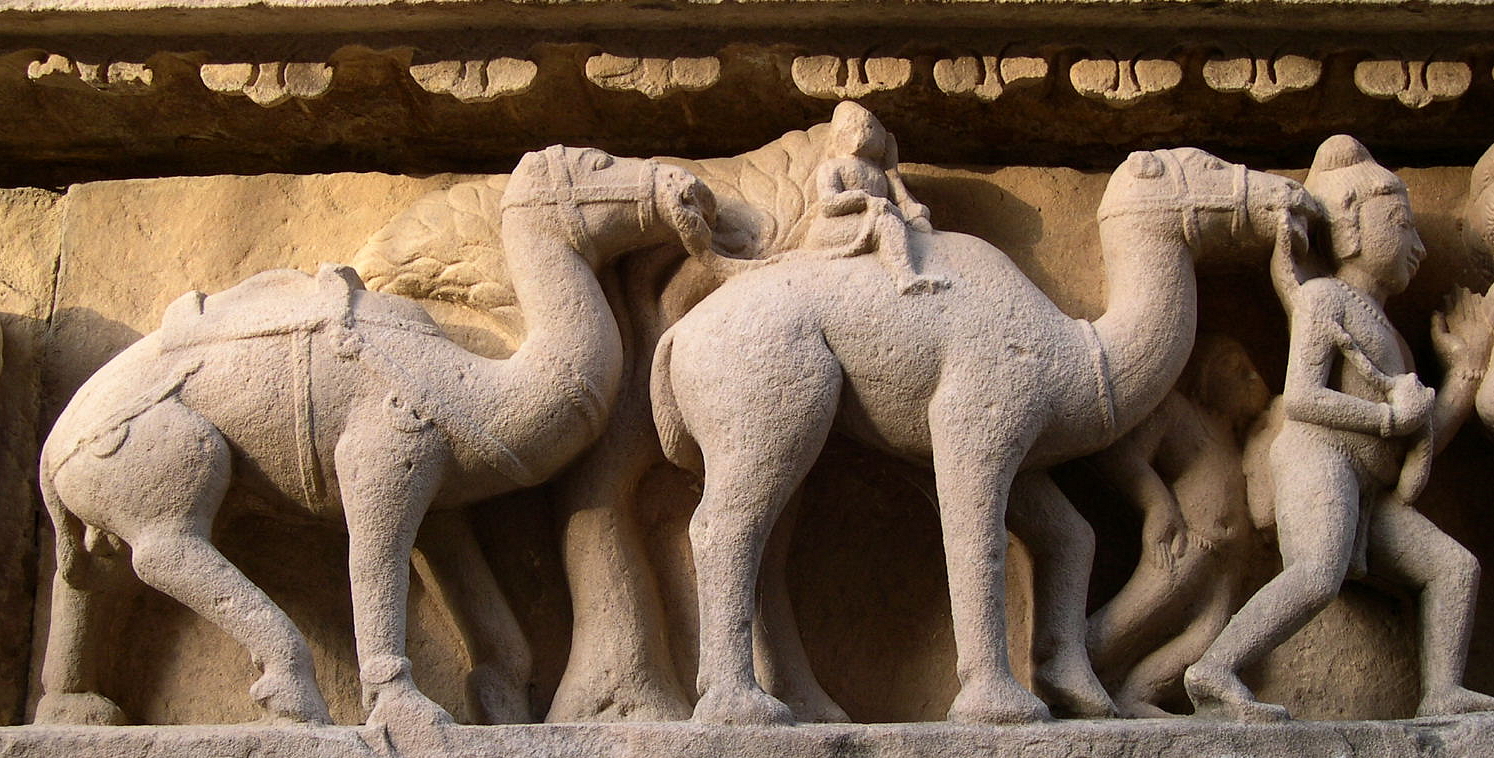 "The dogs bark, but the caravan moves on."
– Arab Proverb
The premise of money transfer startups' PR pitch revolves around a relatively intuitive notion when it comes to the role of banks: they are sleeping giants with bureaucratic culture, awful customer service and backward digital capabilities, so it is just a matter of few years before banks will be disrupted out of cross-border money transfers, also known as "remittances." Paradoxically, this premise is not wrong. Moreover, most banks don't view money transfers as strategic business or care which flavor-of-the-month startup is bragging about their imminent disruption. However, while some of those remittance startups would disappear in few years, the leading role of banks in this space will remain forever. How could that be?
Why Banks Don't Take Money Transfers Seriously
It is naive to think that banks are not worried about competition. Just in USA, there are 6,000 banks whose executives are obsessively comparing their strategies to local and national competitors. However, banks naturally view competition via pragmatic lenses, for example, "what are the top-10 sources of our revenue leakage?" or "which trend could jeopardize 10+% of our profits?" In tha context, lets recall that in the analysis of remittance startups (read this SaveOnSend article) we also estimated the market size in 2015 and 2025: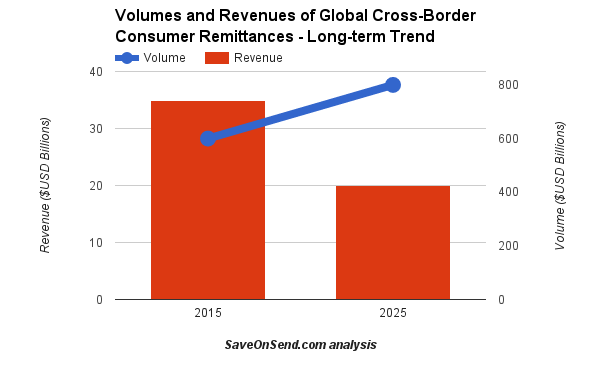 Let's now compare those revenue figures with the overall and consumer-only revenues of four largest USA-based banks (all are among top 25 global banks):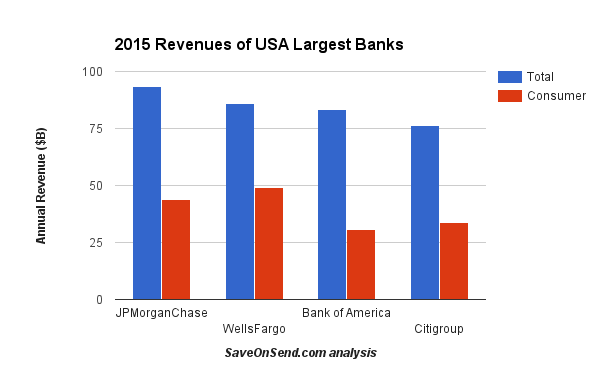 And how much the largest banks make on ALL cross-border transfers including B2B and Correspondent Banking? $0.5-1 billion. Courtesy of Guardian, you could see such data for Santander where ALL cross-border-related revenues represent around 1.5% of company's total (disregard sensational-erroneous point about "10% of the Group's profit"):
Of course, these largest banks make far less than 1.5% of total revenues if we only focus on C2C cross-border transfers. Even if any of these large banks becomes the world's only provider of remittances, miraculously displacing 10,000 competitors in the process, it would gain about the same revenue as its existing consumer business. Let's now compare mentioned above revenues of banks vs. remittance specialists also known as MTOs: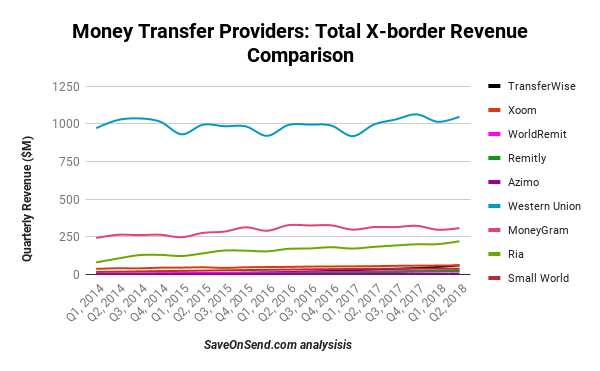 Western Union, by far the world's largest provider, generated $4 billion in revenues from remittances in the last four quarters. How meaningful would this amount be for a large bank? It would only add about 10% to its consumer business or around 5% enhancement to its total revenue.
But what about all those disruptors, well-funded Fintech startups with supposedly much better digital capabilities and more customer orientation than banks? After six-plus years since launch, their revenues remain tiny in comparison, with only TransferWise approaching $0.2 billion annually (see bottom four lines in the graph below):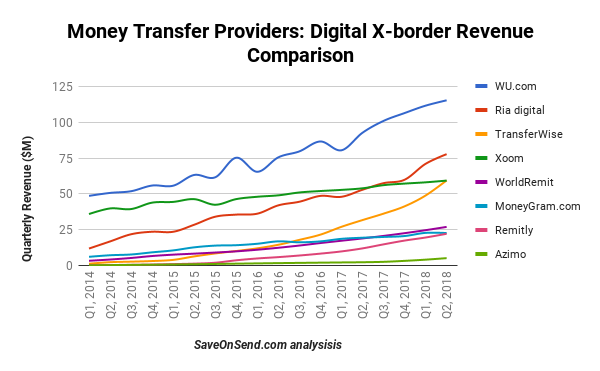 You can now start to appreciate why banks' executives might be unaware of remittance startups like TransferWise or Azimo:
That is also why, you will not find "remittances" mentioned in banks' annual reports: this standard service offering while being core for MTOs is simply too small to matter to most banks. In terms of importance for a large bank, remittances stand somewhere between a travel insurance and overdraft products and executives in charge tend to be three-four levels below heads of retail banks.
What Banks Don't Like About Money Transfers
Besides being a relatively minor service offering for a bank, remittances have been increasingly difficult to manage. As we describe in another SaveOnSend article, regulations that were meant to minimize terrorism funding, money laundering and tax evasion, while justified are also requiring providers to make an extraordinary investment in resources and systems. For a large bank, this burden is two-fold: offering remittances to its own customers AND providing banking services to remittance companies. The latter has grown so complicated that banks en masse have been closing accounts of remittance providers (a global trend also known as "de-risking") – in other words, whatever money banks make of remittance providers does not justify additional investment requirements and liabilities created by new regulations. Here is how a senior banker describes the risks of holding a correspondent account for a large remittances company ("XYZ" to preserve anonymity):
"We have an acute concern with a regulatory actions against our bank if XYZ's x-border client commits an illegal activity. To manage risk exposure, our bank conducts an annual two-full-day dedicated compliance due diligence on XYZ with AML, Compliance, Payments committee members and stakeholders from Risk, Banking and Cash Management teams. One of top priorities is to ensure that we are only enabling business accounts transfers for XYZ and that those transfers are done for a specific purpose (not gambling, drugs, etc.) – as providers, at times, knowingly or unknowingly, misrepresent types of accounts and their purpose. Even when discussing a renewal of credit commitments for XYZ, a topic seemingly far away from a nature of cross-border transfers, about a third of our banking peers decline to join our bank due to potential regulatory concerns. "
So far, de-risking has affected the smallest remittance providers or few high-risk destinations like Somalia or The Cayman Islands. But it is a top concern for the largest remittance specialists as well. Most of them have a primary banking partner, but are always maintaining some business with another large bank just in case. To minimize the regulatory exposure, banks are conducting periodic audits of remittance providers that use banks' services. As the result, there are plenty of bank executives and staff out there who know exactly, inside-out, how remittance specialists work, whether it is Western Union, Transfast or TransferWise. So if bank's senior leadership cared, it would be simple for their money transfer managers to copy "best practices" and just take over global consumer remittances, but they don't.
Banks Approach to Money Transfers
There are 3 go-to-market models for banks in remittances
Ignore: most banks only offer wire transfers

Prioritize: build a separate remittance business

Partner: rely on a specialist to serve your customers
At this time, partnerships are in a very early, pre-hype phase. For the sake of experimentation, TransferWise signed up two inconsequential banks, and we are not expecting any breakthroughs in the upcoming years.
Even banks on "ignore" path are already a major force in remittances. Although smaller than few top global specialists, top banks' transfer volume is naturally limited to the countries of its retail operations: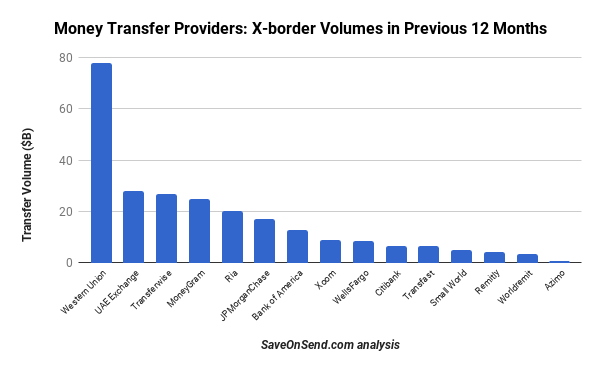 Within a specific country, top banks' position in the remittances market is even more impressive considering how little they care about this service line. For example, in USA, the world's largest outbound country representing 20% of all global remittances, only 10% of around 6,000 banks offer remittances. A wire transfer is the primary method for 90% of those banks. Out of that group, top four US banks are responsible for almost half of total remittance volume, with JP Morgan Chase and Bank of America transferring more remittances from USA than MoneyGram and TransferWise starting to catch up: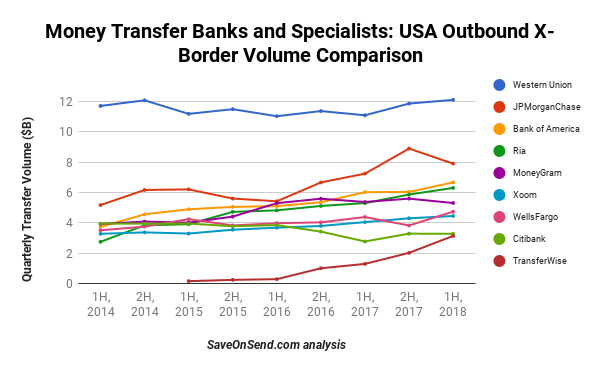 Looking closer at the above graph, you might notice that JPMorgan Chase's volume went up 30+% in the last year while Wells Fargo and Citibank's volumes declined by around 5%. Those swings might seem significant until we remember how little they represent in these bank's bottom line.
US banks combined are responsible for about around $80 billion in annual transfer volume or about 60% of all consumer cross-border volume. Moreover, banks' transfer volume and transactions have been increasing around 5% annually over the last few years: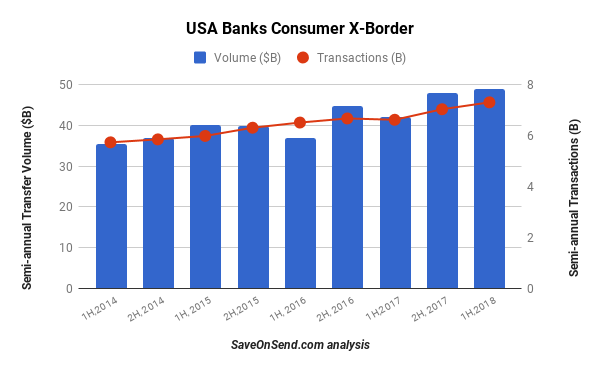 Such massive market share of banks in consumer cross-border is not unique to USA. For example, for transfers from UAE to India, one bank, Axis, alone has 20% market share. From Korea, top-5 providers are the country's four largest banks and Western Union. So the banks, the bureaucratic colossi that don't see remittances as a strategic business and don't have the most convenient digital or off-line user experience, are among the market leaders without even trying. How could that be? First, they are not serving exactly the same consumer segments as specialized remittance providers, and, second, they are doing just enough to keep customers from leaving. Let's start with segmentation by reviewing average remittance amounts (in thousands of dollars) among top banks: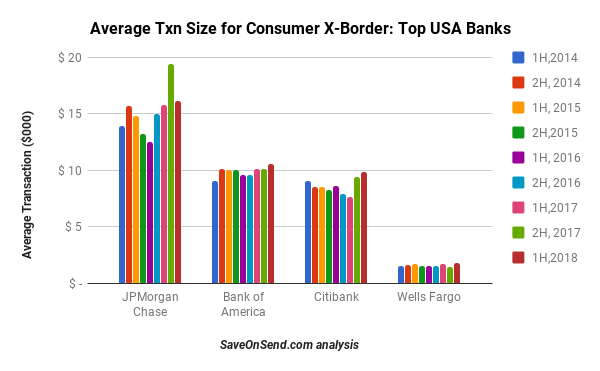 From our other SaveOnSend article you shall know that an average remittance sent off-line (via a cash agent) tends to be around $200-400 and digitally – $1,000-2,000. Even average amounts of remittance providers targeting a higher-end customer sub-segment is around $5-6K for CurrencyFair and $2-3K for TransferWise: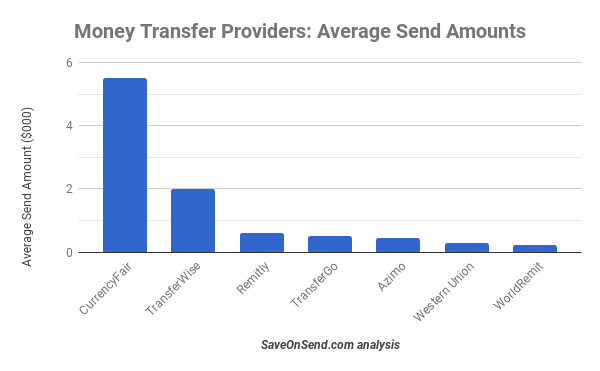 Banks also have such sub-segments among their customers:
There were even more of them few years ago before many of such customers switched to digital services of Western Union, Xoom and other specialists despite a rapid growth in bank accounts among migrants:
But banks' primary consumer sub-segment is different: a less frequent sender who remits much larger amounts and uses a wire transfer method for sending money. Not surprisingly, wire transfers are best suited for larger amounts. A wire transfer fee of $30-40 or even $50 means little when sending hundred thousand dollars plus there is no other fees when remitting in the same currency. But even for transactions that require a foreign exchange a customer could negotiate a reasonable FX markup (again, for larger amounts) better than a typical for a bank 2-3% range:
But why does the average transaction size for Wells Fargo is so different? Because, it is the only large USA bank that actively targets typical remittance consumers with a separate landing page launched in 2007: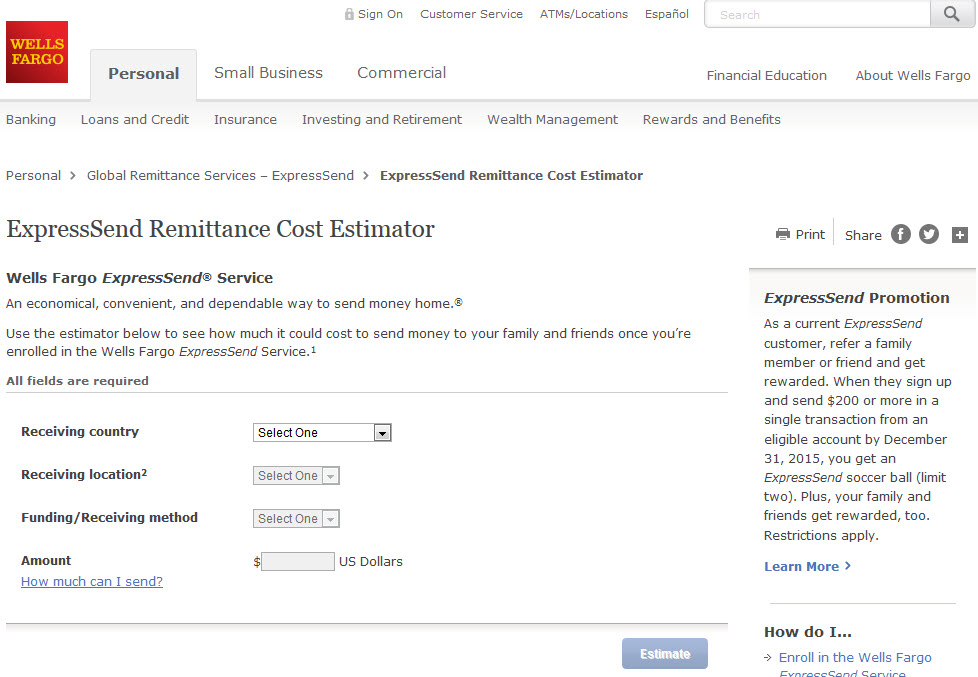 While doing well overall, Wells Fargo has been especially successful in the USA-to-Philippines corridor where it is one of the top-5 digital remittance providers despite charging above average margins (try SaveOnSend app for other scenarios):
So, Wells Fargo, a huge bank, with a high price point, and landing page from 1990s has maintained the same volume of cross-border money transfers for the last 3 years. By the way, Wells Fargo's sub-par digital capabilities are not unique among banks or specific to a remittances service. With the exception of JPMorgan Chase which finally updated its digital presence in 2016, ugly visual design and convoluted functionality of digital assets had been a trademark of typical large banks. The best illustration of internal bureaucracy and digital incompetence could be a sign-in page of Capital One that requires around 30 separate logins across three client segments and looks like a high-school project: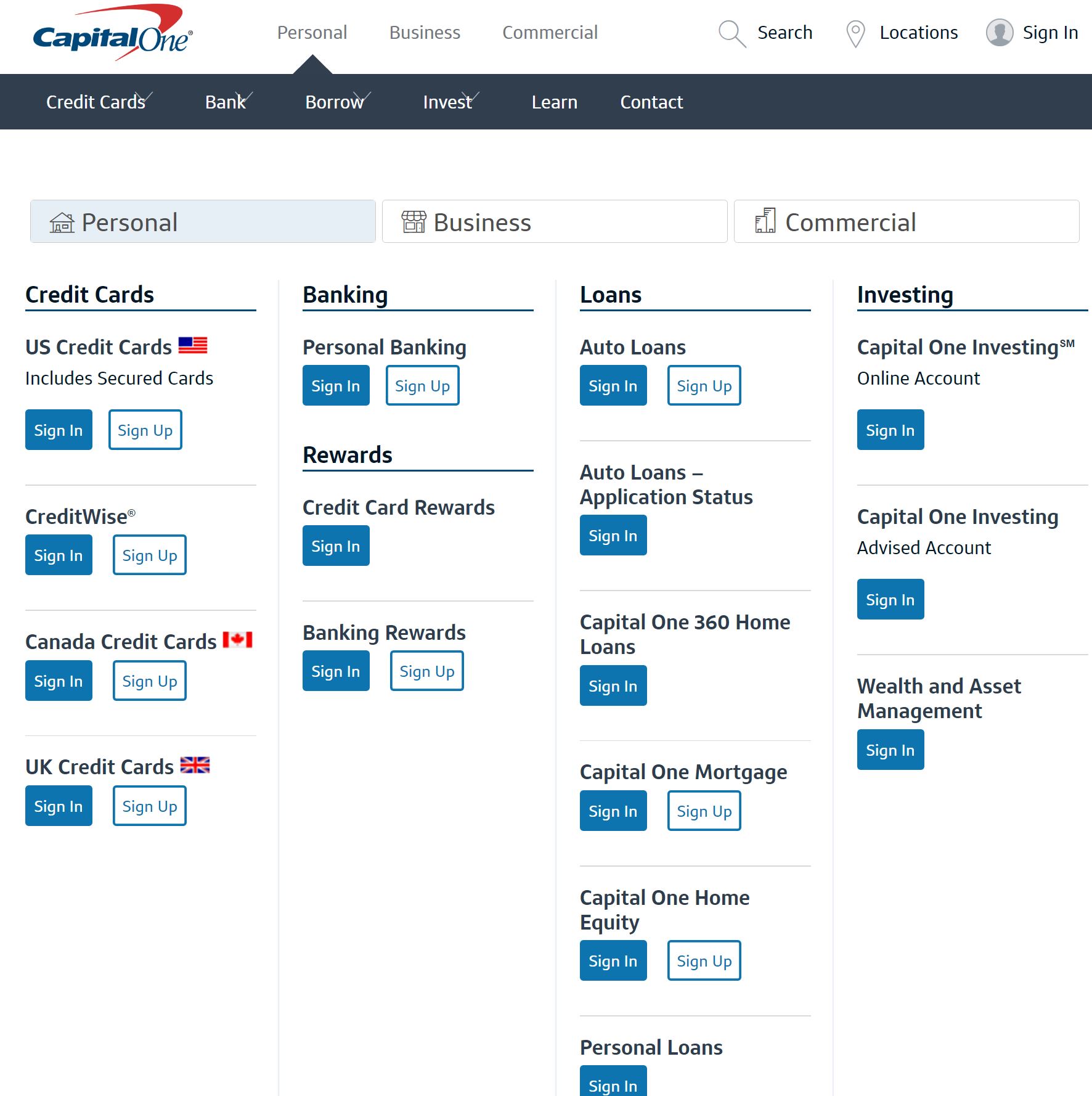 As usual, reality is more complex than it seems initially. Most payment experts believe that Western Union is a backward dinosaur on its last breath, but it is far from it as we prove in this SaveOnSend article. Similarly with banks, a common stereotype is not accurate. Some products of some large banks could be better than of well-known Fintech banks:

This disconnect between our perception of banks and the reality gets really puzzling because we are constantly bombarded by survey results about customers who evidently hate their banks. For years, we have been hearing cliche about millennials who would rather get a root canal than to see a banker. Contrary to what many in FinTech would like to believe, consumers generally like their banks and are not that demanding. Even among "millennials" satisfaction with a bank's branch experience is 80+%, and a sleek landing page could feel less trustworthy when it comes to sending money. In facts, consumers like their banks a lot. How a lot? Wells Fargo was caught for illegal practices of opening fake accounts and keeping insurance refunds. Did the bank customers move their business to other 6,000 US banks or to a cool Fintech startup? Nope, they gave Wells Fargo more business:

Moreover, migrants tend to be particularly loyal to their country's banks that offer services in host countries. You might have noticed PNB in the earlier comparison table for transfers from USA to Philippines – it is a 5th largest bank in that country. For transfers from USA to India, ICICI and IndusInd banks, #3 and #10 in India, remain active players:
Similarly to the US banks, remittance portals of most non-US banks (PNB, ICICI, IndusInd) also seem ten to twenty years out of date. To some of us it might be puzzling that these banks still get any remittances business considering better digital capabilities and pricing of some incumbent MTOs and Fintech players. But maybe for some of their customers such backwardness creates a feeling of tradition and stability. Of course, these businesses will not survive unless their parent banks decide to prioritize remittances for a digital transformation, but the timing of real disruption, more than a 20% drop in revenue, could easily take another decade.
While Wells Fargo is unique among US largest banks in its targeting of typical remittances across the board, other banks could also be selectively active. For example, India is not just the world's largest in-bound country for remittances. Its citizens in USA also tend to be more digitally-savvy than other large migrant groups (learn more in this SaveOnSend article). Therefore, Citibank created a global landing page just for that niche:
Another such example is BBVA Compass which focuses heavily on Latin American markets and is #25 among US banks by consumer cross-border volume. The bank's volumes dropped significantly in 2016 which gave a pause to executives if they should re-prioritize a cross-border consumer business in its overall strategy:

Known for its innovative culture, in October 2017, BBVA launched a dedicated mobile application for remittances, starting with the USA-to-Mexico corridor. The app was called Tuyyo ("you and I") and included an ok interface:

The bank was still charging an above average margin, ~3% in total, with half coming from a fee and another half from a foreign exchange markup. Despite a heavy PR blitz, six month after launch, the app download was minimal:
Conclusion
Banks, as the class, will continue play a major role vis-a-vis remittances. While not viewing remittances as a strategic product that warrants a fight for a bigger market share, banks will always stay awake and invest just enough in their money transfer services to satisfy their customer needs and, in rare cases, to proactively target niche markets where they perceive a significant growth opportunity. Rather than banks worrying about competition from remittance specialists, it is those providers who have major concerns if banks would continue offering them services.
Thank you for reading our analysis. As with everything else on our blog, we will be making frequent changes to this article, so please come back soon. If our facts and conclusions don't seem correct or objective, please share your thoughts in the comments section below.