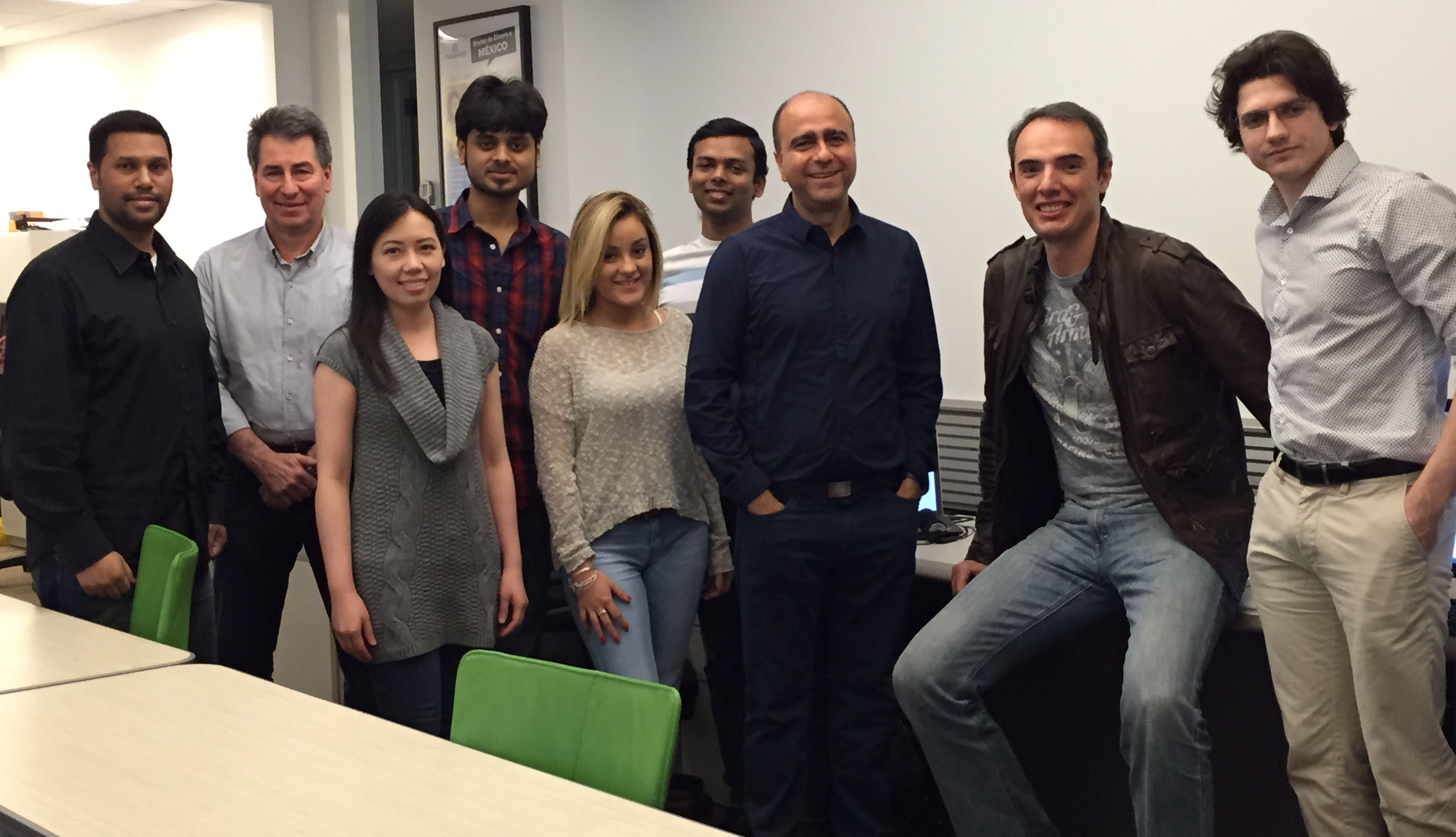 "Only when the tide goes out do you discover who's been swimming naked."
– Warren Buffett
Transfast presents a particularly interesting case among pro

viders of international person

–

to

–

person

remittances. W

hil

e

we often

read about

startups

or

bitcoin

taking on the industry's largest players, Western Union and MoneyGram

,

T

ransfast is un

ique in being an independent, private equity

–

backed

company

that is

in

–

between those extremes

. Transfast

straddl

es

both offline and online worlds across the globe

,

while being nimble enough to maintain an entrepreneurial

/ startup

culture. Since 2008, Transfast has grown ten times, expanding from a narrow focus of sending money between the U.S. and Latin America

n corridors

to a

truly

global provider. Their story and insights on the industry are quite

unique and

informative.
This blog is specific to Transfast – if you are looking for more general knowledge on
the
best ways to transfer money, check other
SaveOnSend
blog
posts
.
We will cover questions like:
Should I use Transfast

to transfer

money from the U.S. to India, Philippines, Mexico or China?

How do

Transfast

's

fees and exchange rates compare with other

money transfer companies?

How is Transfast different

vs. other online remittance providers?
We will structure this post as follows:
1. Transfast
's
h
istory in money transfer
2. Transfast
's
pricing: fees + FX markup (exchange rate)
3. Whether or not you
should use Transfast for money transfer
4. Transfast CEO's views on
the
money transfer
industry
and current
trends
TransFast: Money Transfer History
Like
the Chilean
–
born CEO of Ria
Money Transfer,
Juan Bianchi, Transfast's CEO, Samish Kumar
(on the right in the above photo), also has
immigrant
roots. Samish was born in India
and
as
a child
received monthly remittances from his mother
,
who was working in Nigeria as a teacher
. He
then
moved to Nigeria
with his younger brother to live with her
.
Just before the military coup in Nigeria (1984)
,
the family moved to the United States.
After coming to the U.S., Samish earned a degree in aerospace engineering and landed on Wall Street. There
, his
emerging markets experience gave him
a visceral underst
anding
of how money sent from developed nations
impacts the economies and daily life of people in
developing nations.
Samish's first professional engagement on this topic was in the aftermath of
the
1
st
Gulf War,
when due to
a
spike in oil prices, India
experienced
a serious balance-of-payments crisis
. Thanks to remittances from Indians living overseas, the country's economy received a crucial lifeline. Samish noticed similar patterns during
the
1997 financial crisis across Asia
,
when remittances proved to be the most reliable source of capital as private investments evaporated.
After
Wall Street, Samish worked in private equity, overseeing startups and learning from successes and failures. K
eeping a keen
eye on
global
remittances, he noticed that after 9/11, the barriers to entry into this industry were growing, due to increased compliance requirements. In April 2007, Samish partnered with
G
CP Capital
Partners
to acquire Transfast. The company had declining revenues
of
~20%/year,
was processing around $0.5B in volume and
focused
mostly on Latin American
corridors.
Samish's long-term vision for Transfast w
as based on the Walm
art model: to provide
everyday low prices,
great customer service
,
and to deploy the best systems an
d operations to drive costs lower.
Since 2007, when it was acquired by a private equity firm,
Transfast
has grown to process
$6.5B in volumes
annually becoming a top-20 money transfer provider: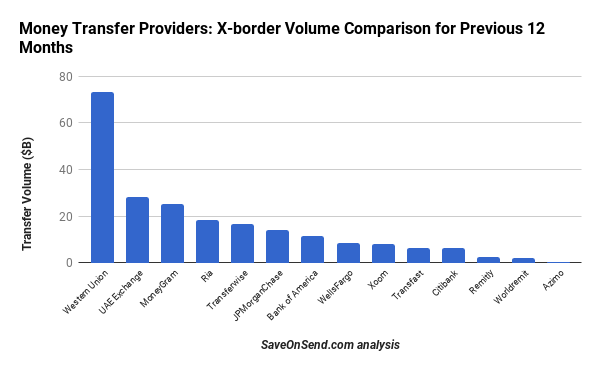 Similarly to other providers that offer both offline and online transfers, Transfast's cash business is stagnating while its digital side was growing 100+% till 2015 and at increasingly slower pace since then, repeating digital growth trajectories of other players (read this SaveOnSend article for more details):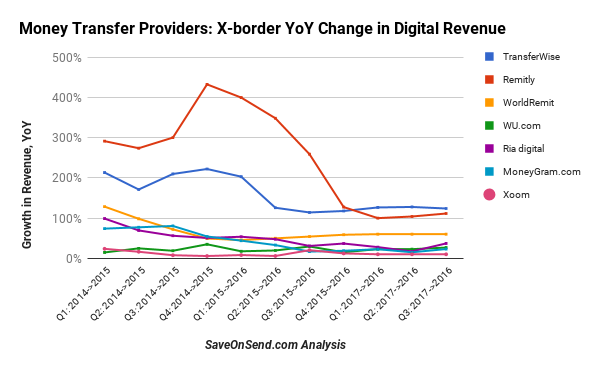 Around half of Transfast's business is from the U
.
S
. with the rest is mostly out of Middle East. Its biggest transfer destinations are Philippines, where it has about 7% market share, and India.
Transfast
's
pricing: money transfer fees + FX markup (exchange rate)
Review two tables below that compare providers for sending money from USA to India and Philippines:
As you can see, despite difference in corridors and amounts, Transfast is among less expensive providers, but not the cheapest. Because it is owned by a private equity firm, as opposed to a venture capital or public market, it must focus on profitability above growth.
L

ike

Xoom

,

Transfast

focuses on approving most transaction

s

instantly, delivering in near real-time

100% of cash

and

~70% of

online money transfers

.

Compare Transf

ast for other scenarios using

SaveOnSend

app.
At this point, some of you could be confused how
Transfast
could be more expensive for some countries, since you might remember seeing their ads about "Zero Transfer Fees" (like the one below).
T

his

is a common advertising

method

among money transmitters. Since we, as consumers, seem to pay much more attention to fees rather than exchange rates, providers often advertise "zero fees" while making money on the FX markup. As we discussed in another

SaveOnSend

blog post, each provider charges a different combination of margins (fee + FX markup). For example

, if you

look at FX markups

across money transmitters for sending money to India

,

they are not only

significantly different across providers, but each provider changes its FX markup on a daily basis: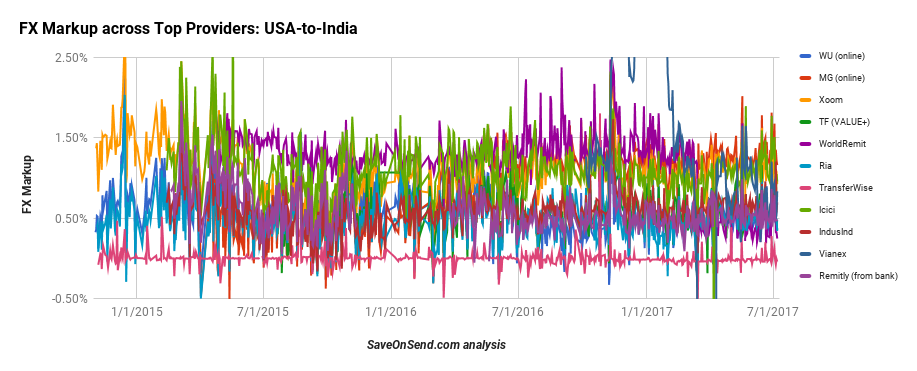 In January 2017, Transfast received $40 million credit facility, but from comments of the company's private equity owners it wasn't clear if it is truly an additional investment or a replacement of previous funding.
Whet
her or not you should use Transf
ast for money transfer
So should you try Transf
ast or not? The answer depends on your preferences, on where you are sending money, and your favorite receiving-sending method.
If you are ok to wait few days and are

are looking for

the cheapest provider,

TransferWise

or Ria could work better for you

.

If you need instant money transfer and wider availability of cash/bank locations in Philippines AND are willing to pay for it, Transfast would be a good option.
After you try Transf
ast, please leave feedback using
our
SaveOnSend
app – help others to make a more informed choice.
Trans
f
ast CEO views on industry trends
As consumers and participants in
the remittance industry
, it is easy to get confused about industry trends and comparison
s
across providers.
Transfast's
CEO shared h
is perspective on the industry:
What are the major differences across providers?
Transf
ast
money transfer focus is on
fast
transaction speed and
good customer service at
value
price
s
. We have done great and love our business, but
we
continue to push the boundaries when it comes to innovation and improvements
.
Transfast has built its own
proprietary
network
& partners across the world.
Most startups use third-party services
, network aggregators,
and corresponding bank
ing
rails which cost
s
more and
limits their ability to manage risk and processes. By
operating and
owning our
n
etwork, Transfast money transfer
to banks accomplished in the fastest way, while always knowing where our customers' money is
at all times
– we never use third-party rails.
Another

difference is related to our business operation

model. For example, by leveraging more

data,

Xoom

seems to be fu

rther

along than us in evolving

risk management systems, approving

approximately

90% of transactions

in real time. Transfast money transfers approved instantly for 70% of online transactions, and w

e are

working to

optimize risk management models so that they will be on par or better in the immediate future. However, based on Xoom's financials, it would seem that over the years they had much greater appetite for risk and sustaining

losses. Transfast, as a private equity backed company, has preferred to take the more conservative approach.
Like Western Union, MoneyGram and
Ria
, Transfast money transfer service is catering to the preferences of the majority of remittance consumers. Our customers want fast
banks
transfer
s, low fees
and
a cash pick-up option for large unbanked segments at destinations. They don't mind spending reasonable
amount of
money to get such
service
. Most other providers, even
Xoom
, can't offer
services
such as cash pick-up in key destinations like India (Transfast own a license from the Reserve Bank of India to enable cash pick up).
Why sending money online couldn't be almost

free
There are fixed and variable cost
s
. Fixed cost
s
are extensive – for example, every state in the US requires licensing, bonding,
and the
provider needs to prefund paye
rs in
the
destination countries, etc. The v
ariable costs
include
paying
fees
to a linked bank/plastic card issuer (e.g., 30 cents for a
n
ACH
transaction,
% of principal amount
for a card transaction) and paying
commissions
to a receiving bank
or partner on the receiving side
(~$2
or more
). Because Trans
f
ast money transfers are instant for ~70% of
online
transactions
, the company
assumes certain amount of risk on such transactions
,
which is driving
a
significant cost.
There are also high fraud risks and
cost
s
associated with prevention.
The most
common
fraud is
"NSF Fraud",
when
a customer submits
Transfast money transfer without having sufficient funds in their
bank
account. Another frequent
fraud
type is when customers dispute a transaction, claiming that they didn't send the money. By law, consumers are allowed to
dispute
it
for up
to 12 months, long after the money
is
transferred.
These types of fraud
s
could
be
a
significant
amount
of
all
transactions
for some destinations. In most cases, we would find proof of fraud and don't lose
the
money, but it takes time
and resources
to resolve.
What

do

remittance consumers care about the

most?
Transfast money transfer customers
are a
very diverse group; everybody compare
s
products based on
how long
it takes for funds to arrive,
the
fees-FX element, and service quality, but each destination and sub-segment of customers has its own preference order among those factors.
O

verall, customers are pretty set in their

sending channel

choices; we see almost no cross-over from offline-to-online usage, maybe 1-2% annua

lly. The big increase in

online/

mobile money transfer is coming not from

retail/cash

users

,

but from

consumers who used to rely on

bank

wire transfers.
Indian customers using Transfast money transfers
are really an exception because of their unique profile
.
Many of them are so c
alled "knowledge workers" who co
me to
the
U
.
S
.
on H1B visas to work in information technology and finance. They are more tech savvy and
comfortable with using online
/mobile tools in comparison to
other large remittance groups among migrants
.
What worries you the most in the current

market

environment

?
As
more consumers come online, we are seeing progressively higher
amounts
and more sophisticated attempts
at
fraud. A

ccount takeovers and identity

theft

which

are becoming increasingly popular with fraudsters.

There are other types of

non-transactional

fraud

s

that we have never experienced,

such as business email compromise, but are still worrisome to us.

We also have to
address threats of global
money laundering,
crime and terror
ism.
We take compliance very seriously,
and
as
a
result, 10+% of our workfo
r
ce
is in compliance.
I
n
the
current "
cheap" capital environment, where
it is relatively
easy to get funding from Venture Capitalists
or get public financing via
an
IPO, we see more startups entering the field that offer services without a profitable business model. This might be a great development for consumers in the short-term, but what would happen to these businesses and their customers when
cheap funding disappears
during the next
financial crisis
, like in 2001 and 2008
?
In Summary…
Hopefully, you found this overview helpful and feel more confident in your choices of whether or not to use Trans
f
ast money transfer services from USA to India, Philippines
,
Mexico
, or China
.
If we missed anything, please leave a comment. We will be keeping this post regularly updated, so come back soon!