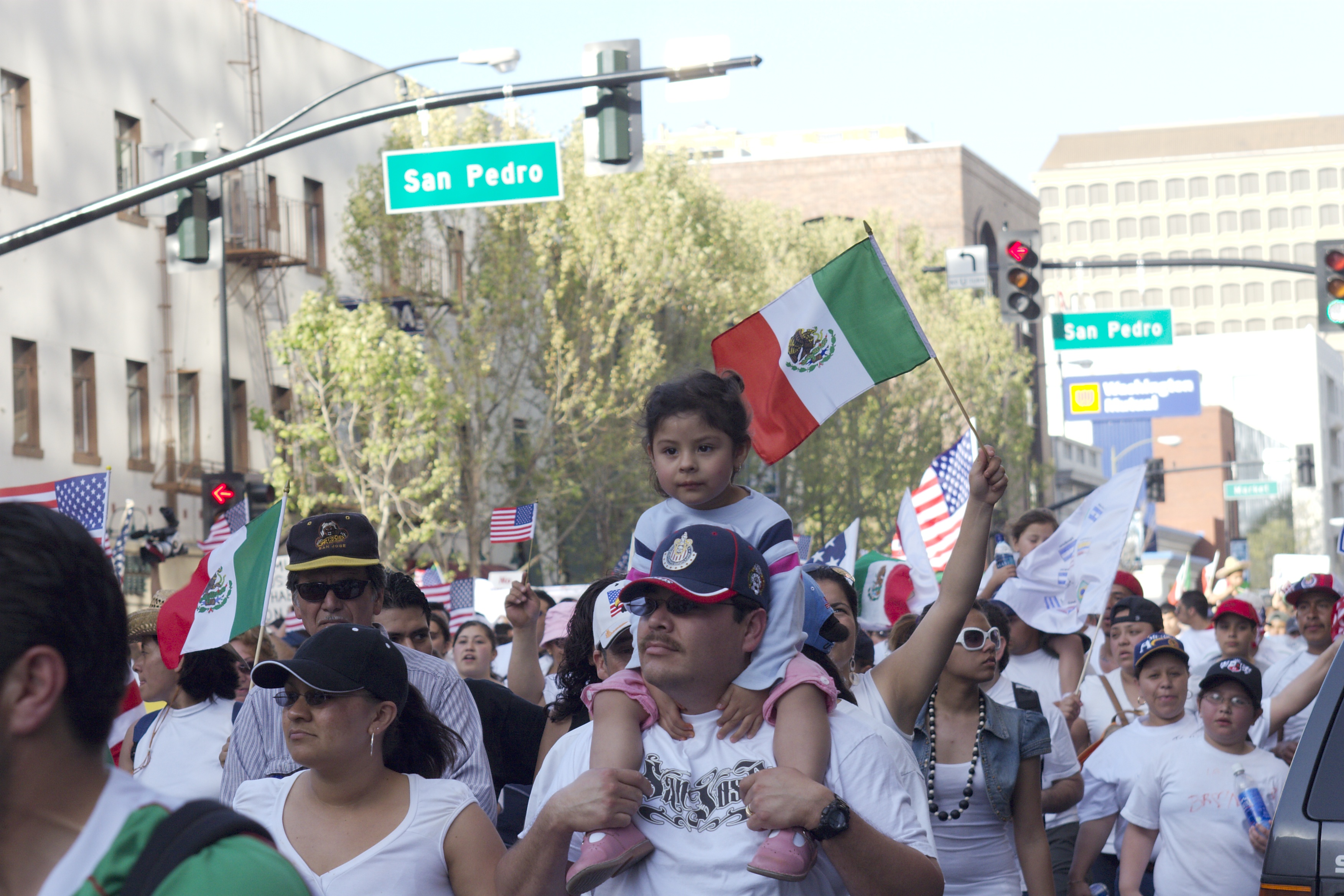 Are you Mexican-Chicano sending money from USA to Mexico? Want to get the most pesos for your dollars? Not sure how to send money online and which provider is the best, cheapest or fastest? YOU came to the right place! We will cover all most important topics:
Sending money to Mexico: key trends

Pesos to dollar exchange rates and timing

Top providers for sending money to Mexico

The best way to send money to Mexico for you
Please note this post is specific to Mexico. If you are looking for general knowledge of how to best send money, please review this other SaveOnSend blog post first. And if you only have 30 seconds, just find the best provider with SaveOnSend app.
Before we get started… Great news if you are a consumer sending money from USA to Mexico: it is currently one of the most competitive corridors from USA, attracting more providers and larger investments than many other destinations. You could make a relatively safe assumption that when transferring money to Mexico with any top provider you will get a reasonable price and service. Overall, cost of sending money has been decreasing globally, dropping 20-30% in the last 7 years alone:
USA also happens to be one of the world's least expensive countries to send money from:
We are recommending trying providers with the cheapest price – this way, you are helping your family while also supporting Mexico' growth. Each 1% of savings generates additional 250 million dollars annually for your families and Mexico's economy.
1. Sending money to Mexico: key trends
USA-to-Mexico is by far the world's largest corridor for sending money. No other two countries in a world has such mix of its nationalities and a close connection with its birth and/or ancestry home. 35 million people living USA claim a full or partial Mexican ancestry, and another 7 million are unauthorized immigrants from Mexico:
USA dwarfs all other countries combined when it comes to sending money to Mexico:
The volume of remittances from USA to Mexico had been rapidly increasing till the 2008 financial crisis in USA, then dropped off and is now again approaching peak levels: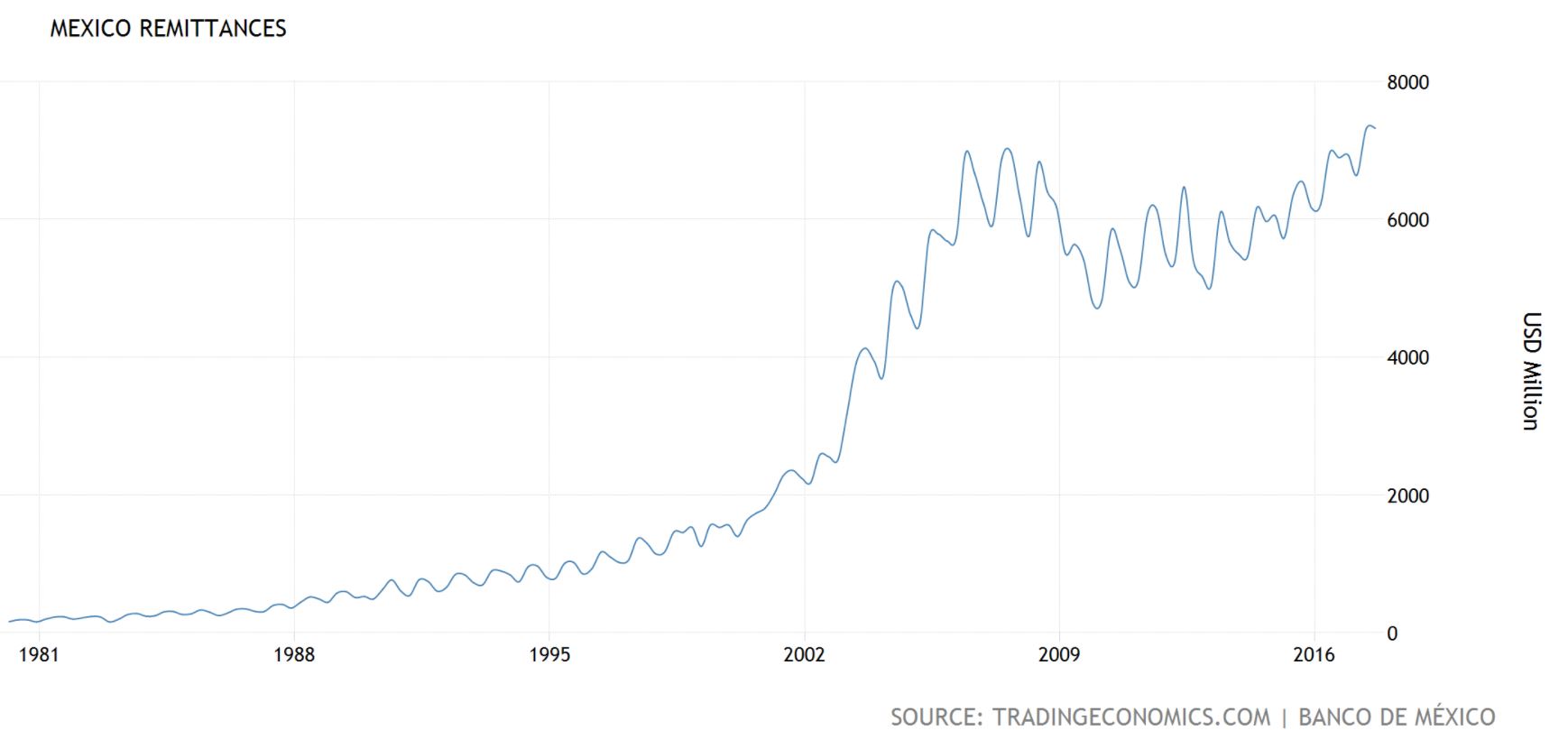 Around 35% of Mexicans-Chicanos live in California and around 25% in Texas. New immigrants from Mexico, who typically send more money, are also arriving in large numbers to Chicago, Phoenix, and NYC metropolitan areas. However, the number of new arrivals have been rapidly declining due to a slowdown in a construction industry and increase in deportations by the US government. In 2013, Chinese migrants became the largest source of new arrivals to USA.
Mexicans-Chicanos send money from USA using both an online channel (a provider's website or mobile app) and via a cash agent. A great majority of senders continue using only cash agents despite a much higher cost of this transfer method:
This could be explained by multiple factors. On a surface, migrants sending money to Mexico seem satisfied with a current offering:

While rapidly declining, a significant portion of senders still don't have a bank account:

Finally, in comparison with other major migrant groups, Mexicans have the lowest levels of education and income: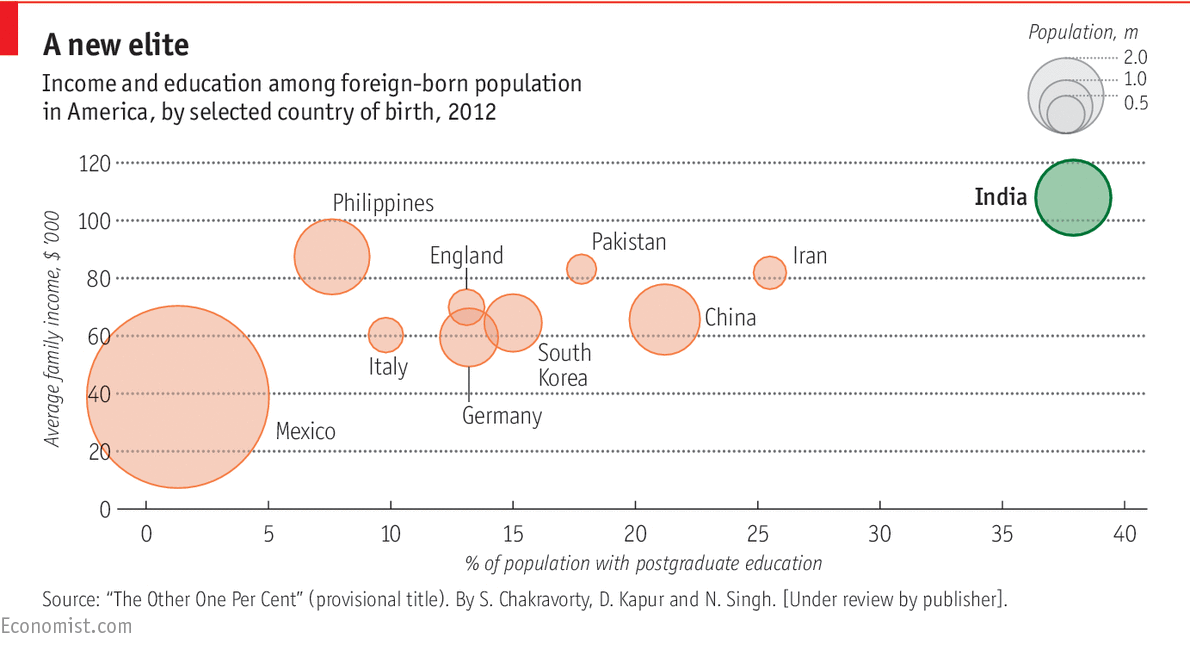 It is also important to remember about a significant presence of so-called "undocumented" migrants who get paid in cash and don't pay taxes. They are worried that by placing money into a bank account they could be reported to IRS (USA's tax service). Out of all remittances between US and Mexico, about 50% are from such "undocumented" customers. Even among legal USA residents, a large portion of Mexicans works in fields where it is customary to get paid in cash (restaurants, cleaning, constructions, nurses, etc.). For them, uploading money into a bank account is an extra step with, again, a potential tax liability.
So while millions of Mexicans-Chicanos in USA already have a bank account and a smart phone and despite that the smartphone usage is also growing rapidly in Mexico, cash transfers will likely continue dominating remittances to Mexico. As a result, sending money from USA to Mexico remains less price competitive than for some smaller corridors (more on this later).
If you are reading this blog and haven't yet tried sending money to Mexico online, via a website or a smart phone, you should definitely give it a shot. Most of well-known providers have an easy-to-use mobile app, and the setup shall only take few minutes. Once you link your bank account or debit card, you might be surprised how easy it is to send money online and how much you could save. By using online method for money transfers, all your past transactions are available for your review any time, plus your future repeat transfers shall take less than a minute to complete since you don't have to enter the same information again. There are also significant cost advantages (more on this later).
2. Pesos to dollar exchange rates and timing
Are you wondering if you shall wait for pesos to increase in value or for a dollar to fall? Trying to time the best exchange rate is unbelievably difficult if not impossible. If anybody gives you an advise on this topic while not making millions trading on same information, it might be a sign that you shouldn't follow such recommendation. Still not convinced? Look at the graph below for changes in the exchange rate of pesos to dollar during the last 5 years – do you see any logic in the exchange rate's short- or long-term movements? While the overall trend is upward, you can notice long periods when exchange rate decreased or was stagnant:

However, there is a more practical approach to timing money transfers. Based on the analysis of FX markup (the difference between a peso-dollar exchange rate that providers get on the market vs. an exchange rate that you get from a provider). Not only each money transmitter applies a very different FX markup, each provider makes daily changes to its FX markup to maximize profits. Some providers are even applying different FX markups for different sending-receiving methods. For example, for sending money from USA to Mexico, MoneyGram has different peso-dollar exchange rates for sending a) cash, b) online, receiving cash, c) online, receiving to a linked bank account. So how do we use this knowledge against money transmitters? Look at this chart showing fluctuations in FX markups across remittance providers for USA-to-Mexico: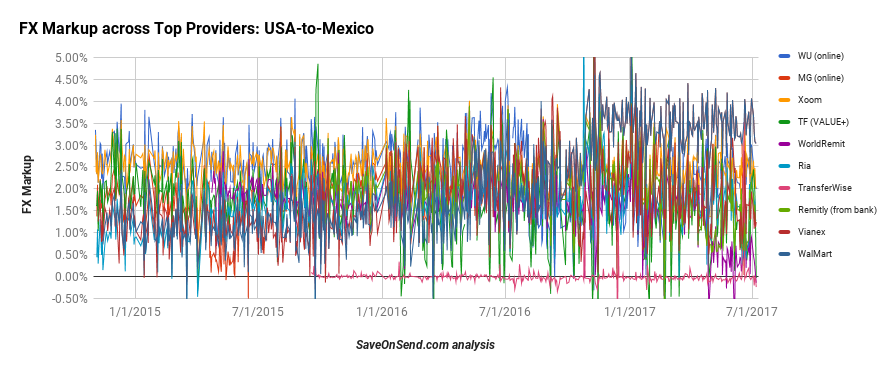 As you could see, except TransferWise, all providers keep significantly changing FX markups every couple weeks. One of the worst offenders is Xoom with massive fluctuations on a daily basis. Sending money with this provider is a bit like playing in casino, a customer could pay 2-3x more or less in fees depending on the day: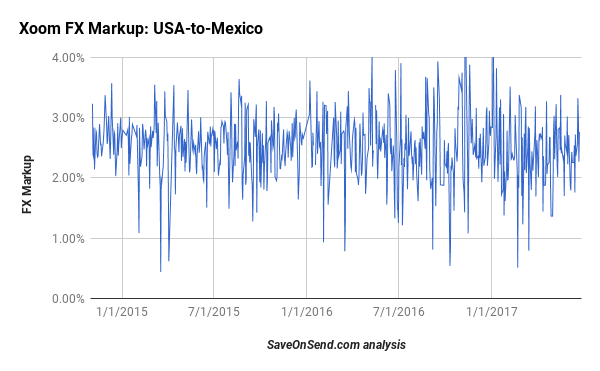 The way you could take advantage of this is to compare your favorite provider's FX markup to its average in the previous few months based on SaveOnSend charts. If FX markup is at or below the average trend, you could proceed with sending money; otherwise, it might make sense to wait 1-2 weeks till your provider's FX markup comes down to its average level.
3. Top providers for sending money to Mexico
There are many well-established providers for sending money from USA to Mexico. The least expensive option is to send money from a linked bank account in USA to a linked bank account in Mexico. You could accomplish via a provider's website or mobile app. Here are the top providers for your consideration (using SaveOnSend app):
As you notice, TransferWise is less expensive but takes longer to deliver your money. Other providers, like Xoom, could be more expensive but deliver your money within one hour.
In terms of market share, global incumbents Western Union and MoneyGram are still the largest players:
For example, Intermex transferred about $7 billion in 2017 across Latin America with 60% going to Mexico:
Xoom leads among consumers sending money to Mexico online with around 15% of Xoom revenues comes from money sent from USA to Mexico. This provider is known for instant money transfer and good customer tools and support. Western Union and MoneyGram, on the other hand, are known for the largest network of cash agents worldwide.
4. The best way to send money to Mexico
As we discussed in another post on the overall strategy for sending money, "better" and "best" money transmitter is different for each of us. It is based on our unique preferences among cost, speed, convenience, and customer service. No one provider is the best among all these factors.
But one decision should be very clear to you by now. Compare the top row in the table below (cheapest option for sending money to Mexico) vs. sending and receiving cash. Do you notice that a cash-to-cash method is three times more expensive than bank-to-bank? In other words, if you are currently sending money to Mexico with a cash agent, by sending money online you could save 60-80%. It could take a bit longer for money to arrive, but such massive savings seem to justify a minor delay:
To summarize, here are the leaders among providers that send money from USA to Mexico:
– Fastest: MoneyGram, Xoom
– Service quality: TransferWise
– Availability of cash pick-up locations: Western Union, MoneyGram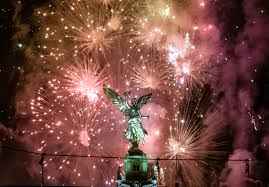 There is another consideration: consistency of experience with a particular provider. As consumers, we like to pick a particular brand or local business and use them for years. That experience includes not just service but also prices. Imagine if your favorite restaurant or grocery store keeps changing prices every time you go there plus they also have different prices based on how much you purchase. We already covered Xoom's price swings. Western Union and MoneyGram are also prioritizing profit maximization over interests of consumers. Not only their fee structure has more tiers, they are also frequently changing their prices.
On this dimension our favorites is TransferWise with the extremely simple, easily remembered and consistent fee structure that doesn't change every couple months.
In Summary…
Hopefully, you found this overview helpful and feel more confident in how to find the best approach for YOU when sending money from USA to Mexico. If we missed anything, please leave a comment. We will be keeping this post regularly updated, so come back soon!