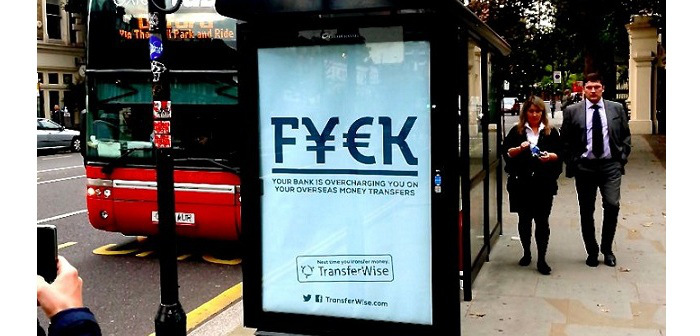 Tale of Two TransferWises
"Revolution is a tough business. You can't make it wearing white gloves and with clean hands"
– Lenin
TransferWise's origins are usually described like this. Entrepreneur from Estonia, who was the first Skype employee, got tired of paying huge fees to banks for transferring money from UK to Estonia. So he came up with a brilliant idea of matching remittance senders and receivers in the same country. TransferWise was launched with an office sauna and employees who don't mind getting undressed to take on banks, evil entities with no value for consumers. The startup got funding from crème de la crème of investors like Peter Thiel, Richard Branson, Ben Horowitz, becoming the only "unicorn" in consumer cross-border transfers with $1.6B valuation: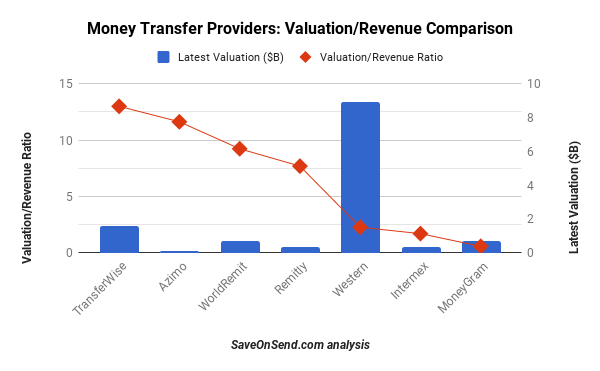 As with any good story, and TransferWise is a particular standout in otherwise PR-mundane Fintech collection, this one has all the key elements: suffering helpless victims, conniving old despots, and young-good-looking savior with clever tricks. And with like most of good stories, TransferWise's PR spiel is somewhat accurate on surface. So let's start with what is true.
TransferWise Money Transfer: Things to Love
TransferWise is indeed the coolest money transmitter in the world. This startup is going well beyond mandatory foosball and ping-pong tables in their offices. Its founders and employees were happy to run naked through the world's most famous financial district in freezing February. Having sauna in HQ is TransferWise's another distinction:
From early days, TransferWise focused on exposing "hidden" fees by banks and money transmitters. It is a potentially deceptive practice when most providers are advertising to consumers "zero fee" money transfer while charging FX markup. Despite being a lonely voice on this front among competitors, TransferWise continues persevering pushing for legislative changes in UK. This TransferWise mission was clearly displayed to its customers from the early days in 2011:
TransferWise's another distinctive cultural characteristic is obsessive persistence with trying new approaches. Similarly to other best-known startups, it didn't have much traction in the first two years, reaching less than $10 million in monthly volumes…
… but it kept experimenting across consumer sub-segments trying various out marketing techniques. TransferWise's experimentation velocity was at such scale that when a monthly volume jumped to $50 million the company's management couldn't initially tell what led to that. While many Fintech startups and even large financial services companies could pilot multiple ideas at once, TransferWise is uniquely capable of quickly learning from mistakes:
.@TransferWise Post mortem structure, I love 'what went right?' Important to call out and reinforce the good, so it can be preserved pic.twitter.com/55SdSHgMlO

— Neil Johnson (@neilisfragile) June 7, 2017
When it comes to organizational practices, TransferWise is also on the forefront. The startup fosters a teamwork centered on perfecting the user experience and hires distinctively young-smart people, empowering them with autonomy:
Employees love working in such mission-driven, fun, and effective environment: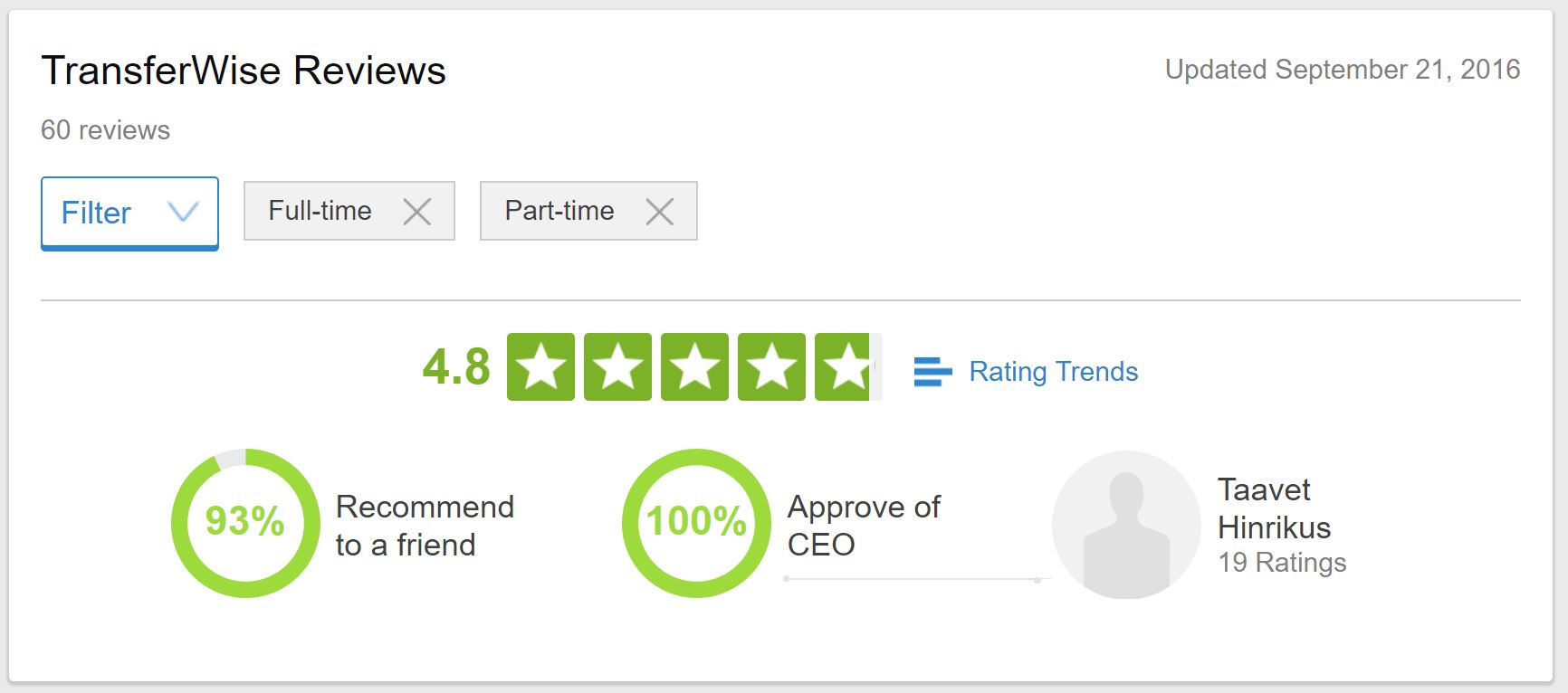 Such autonomy also enables fast scaling (see the list of currently supported corridors here). For example, while WorldRemit took couple years acquiring licenses in the US, TransferWise began offering services right away via an intermediary, initially in 2014 with PreCash, which was fined $150,000 for working with TransferWise, and later in 2015 with CFSB:

In another example, due to a currency instability, TransferWise stopped support for Nigeria in 2016 but returned in October 2017 by sharing risk and revenue with a local partner, Flutterwave.
After a year, TransferWise was already transferring $2 billion out of USA. By March 2017, TransferWise had US licenses in 39 states, missing few states that take longer such as New York and Illinois or are too small to matter (latest status is here). For states with licenses, TransferWise only needed a bank for a correspondent account, and it had to continue relying on CFSB for the rest:
TransferWise grew even faster in Canada – a year after the launch in Spring 2016, it was already transferring $2 billion approaching 10% share of the country's outbound cross-border market. Its growth strategy is centered around a referral channel by creating a superb experience for its customers. On SaveOnSend's blind calls during the provider's early days in USA, TransferWise's phone reps stood out in their ability to quickly understand and personally resolve issues, doing it pleasantly and with some humor. Some of their mis-serviced customers even get chocolates:
TransferWise's approach to driving referral growth is also innovative. The company is not just testing various referral amounts and how to split those between an existing customer who initiates a referral and a new customer who accepts it. TransferWise goes further by thinking how to engage customers in acting as its virtual army of individual PR agents:
TransferWise then analyzes data for referral reasons and applies it in marketing campaigns to drive more referrals:
TransferWise also has transparent pricing (see here). For USA, they are charging a fixed amount for first few hundred dollars and a percentage fee for larger amounts. SaveOnSend can confirm, at least for USA to China, India, Mexico, and Philippines, that TransferWise, on average, doesn't charge an FX markup: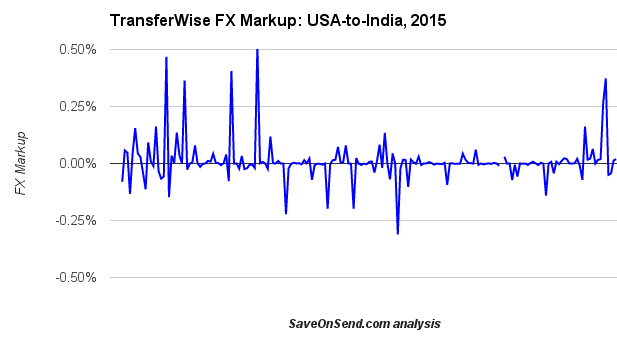 TransferWise's pricing is also much more stable than any other well-known provider. Compare it with unfriendly to consumer pricing strategy of companies like Xoom where a fee could go up or down 2-3x day-to-day:

TransferWise is often, but not always, one of the cheapest providers for larger amounts ($300+) for a bank-to-bank method in many large corridors where customers are not as price sensitive and not conducting frequent price comparisons. See below comparison of total margins among providers for typical transfer amounts in the world's largest corridors, USA-to-Mexico, or for USA-to-Philippines:
TransferWise competitors could temporarily drop prices in order to grow its share in a particular corridor with a hope that investors and customers don't get the big picture: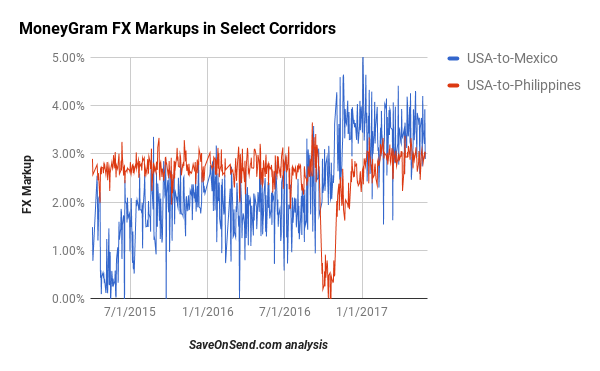 Other Fintech startups love to talk about their profound empathy for poor. So, naturally, when Mexican migrants panicked after Trump's election, same providers… raised prices: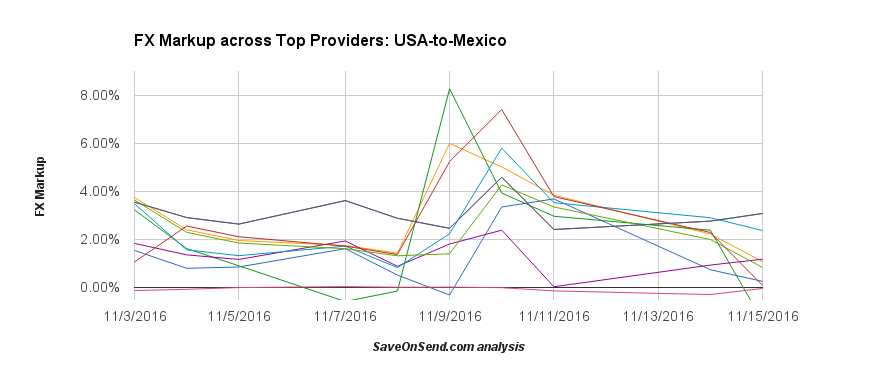 TransferWise never mooches of poor consumers for PR purposes, and during same month it chose to act:
Our friends in Mexico getting enough sh*t – so we've managed to drop fees on MXN transfers by another 33% last week. 🇲🇽🌵

— Kristo Käärmann (@kaarmann) December 6, 2016
True to its price-reduction-and-transparency mission, in October 2017, TransferWise began highlighting higher fees for card payments and dropped prices out of UK:
Combination of these differentiators resulted in a phenomenal and profitable growth with TransferWise becoming the world's 3rd largest remittances company by mid 2017.
$1.5b per month.

— Kristo Käärmann (@kaarmann) June 27, 2017
In October 2017, TransferWise's exceptional performance was validated with the $280 million funding round, by far the largest among cross-border money transfer startups for consumers: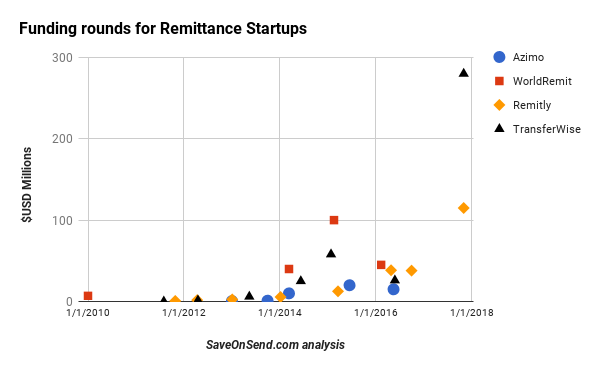 By January 2018, TransferWise was claiming a 15% market share of the UK outbound market…
Now, let's look under the hood.
TransferWise Strategy
1. Segmentation
TransferWise's co-founder, Taavet Hinrikus, explains the company's strategic focus during this 2015 AMA on Reddit:
In the above context, "non-remittance" is the type of cross-border money transfers that are sent by white-collar expats, retirees, or students, rather than by typical blue-collar migrants. Therefore, TransferWise's average sent amount is $2,300 per transfer which is two-three times more than an average amount sent by remittance startups like WorldRemit, Azimo, or Remitly. However, it is much smaller than the average transaction amount of CurrencyFair ($5-6 thousand dollars) or of majority of large banks: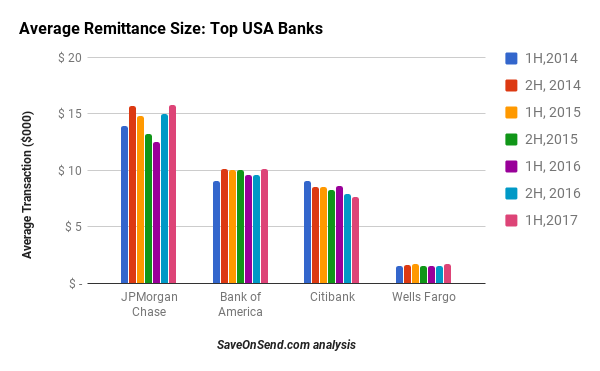 True to its focus, TransferWise's language availability and advertising is mostly targeting European expats:
2. Differentiation
Or here is a quote from this interview in June 2016 comparing Western Union and TransferWise pricing:
"Hinrikus says the company [Western Union] charges 10 times more than TransferWise, on average…"
Or watch this PR interview from October 2016 where TransferWise claims being 80% cheaper than other cross-border providers from USA.
By mid 2017, TransferWise slightly downgrade its claim to "7x":
"It costs 7x more for a bank to do a foreign exchange transaction than us" – @kaarmann about @TransferWise #FutureFintech

— CB Insights (@CBinsights) June 27, 2017
Let's now reconcile this "confident" statement with reality. As mentioned at the beginning of this article, TransferWise is indeed often the cheapest provider for bank-to-bank transfers for amounts above $300. However, it is not the case for sending smaller amounts:
It is also not the case in some of the world's largest corridors. For example, for USA-to-China:
In the USA-to-India corridor, with it uniquely sophisticated senders, TransferWise is not even in Top-5 among the cheapest providers:
That is absolutely fine – basically, this corridor is unique on a global scale (read this SaveOnSend article), and TransferWise doesn't want to lose money in order to gain a market share. But let's look at this Facebook advertisement targeting specifically that corridor or a generic NYC Subway advertisement from TransferWise's launch in USA. What do you think TransferWise means when using "90%" and "8x" comparisons:
Or, here is an example of TransferWise's advertisement on Google, again claiming "up to 90%" savings (compare with the wording of its competitors ads):
Also, take a look at how TransferWise presents expected savings on its landing page, points to "bank" with almost 4% difference in the exchange rates and $46.58 fee:
As you can see, TransferWise is conveniently comparing its pricing with banks' wire transfer service (similarly, it conveniently compares its online pricing with Western Union's offline service). You might remember from the earlier comparison table that no provider was charging such large fees for sending money to India. And what were top competitors' exchange rates around same time? Western Union – 61.98, MoneyGram – 62.21, Xoom – 61.5, Ria – 62.17, TransFast – 61.9. Hence, with the ads you saw above, by referring to "money transfer companies" instead of "banks" and claiming being "the cheapest… to India", TransferWise knowingly misleads consumers while shamelessly berating competitors for being "unfair" and "hiding." We requested TransferWise to stop such practice, but to no avail:
TransferWise got reprimanded by the UK government in 2015 and then again in May 2016 for misleading ads. What was TransferWise explanation? It is simple:
3. P2P: reality vs. fiction
Rumors about P2P for international remittances on a global scale being a slight myth only began trickling in around later part of 2014. The reason it has taken awhile is simple: startups like TransferWise and its B2B counterpart CurrencyFair were founded with the initial focus on transfers among intra-Western-Europe expats. Those flows tend to be highly balanced, and, hence, allow for a relatilvely high P2P ratios according to CurrencyFair's CEO:
But after few months of operating in USA, TransferWise began to realize the fundamental difference of working in other corridors. Just one example: #1 global remittance corridor, USA-to-Mexico, carries $27 billion in annual consumer transfers. How much is sent back? $1B. See quotes by TransferWise's general manager in USA, Joe Cross, and by Taavet:
By June 2016, TransferWise provided a factual reflection of remittance balance flows that would be applicable for any provider, "P2P" or not:
"… it finds true peer-to-peer matches on at least 60 percent of its transaction volume on 20 "routes" among Europe, the U.S., the U.K., and Australia… almost every transfer into pounds is matched 100 percent peer-to-peer…"
Another related insight is to review #1 source of complaints by TransferWise customers – it is about how relatively long it takes for a recipient to get money.
On a cost side, "P2P" doesn't mean much either – let's keep in mind that all providers are trying to minimize a flow of internal cross-border transfers. It is not like TransferWise literally waits for $1,000 to arrive from UK to USA to initiate an exact transfer of $1,000 from USA to UK. To ensure availability of funds at any point, TransferWise cannot exist without banks, specifically, WellsFargo in USA.
Other providers including Western Union are also, obviously, not initiating bank transfers every time a request is made. All providers are trying to estimate how much money and in which currency required in countries of their operation and buy-sell those on a frequent basis. The largest providers also have hedging operations to mitigate against an FX volatility (read this SaveOnSend article for more details). Moreover, for some corridors where there is an option to transfer without FX conversion (e.g., USD-to-USD), incumbents offer a similar pricing structure, e.g, for USA-to-China or USA-to-Philippines.
4. Growth channels
Hiding from investors and charging users to slow down growth, WhatsApp set the bar for what is meant by "viral" expansion. TransferWise wants us to believe that its growth has similar roots:
In reality, TransferWise is deploying standard channels for acquiring customers among remittance providers: referral program, partnerships, affiliate marketing, billboards, social, PR, SEO. Such non-viral growth is expensive for TransferWise making marketing costs the highest spend category:
Yes, TransferWise's referral program seems to be innovative, data-driven, and, most importantly, effective – according to TransferWise, this channel might be bringing ~50% of new customers. See a visual representation below and explanation here: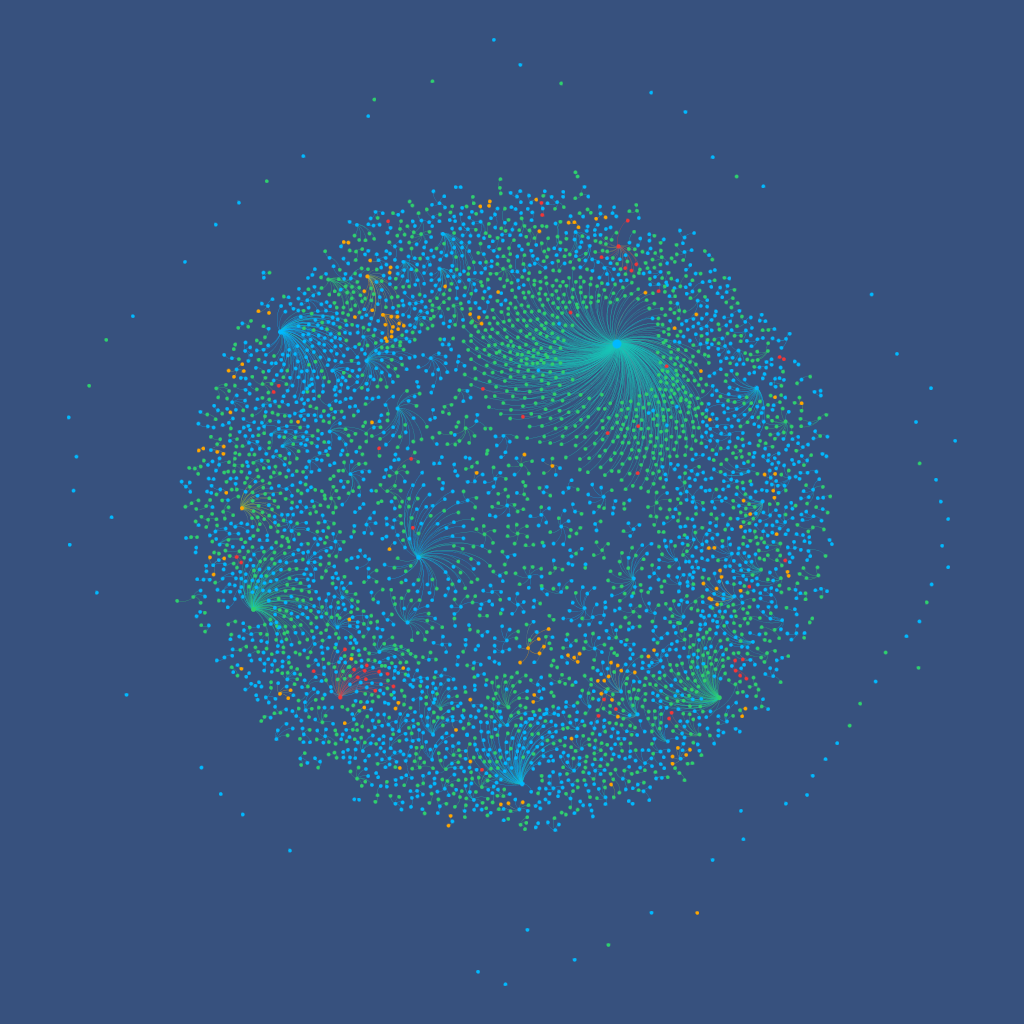 But paid "referral program" coupled with heavy advertising-PR-SEO-social and other acquisition techniques obviously does not equal "viral" growth or "evangelism." We first used WhatsApp or Skype without any financial incentive or any sales-marketing overlay. And our blogs would not be spammed by customers of those companies:

So TransferWise's growth is not really viral but a referral-centric. And it is juiced up with a common industry toolkit for growing a customer base. That is fine, most companies overemphasize how much their customers love them while methodically applying various acquisition and marketing techniques.
But, unfortunately, we again see TransferWise taking "misleading" to a whole new level. Here are the articles in The Guardian with positive mentions of TransferWise during a 5-month period, repeating same PR spiel: Dec 11, 2014, Jan 26, 2015, Feb 3, 2015, Mar 3, 2015, Apr 8, 2015, Apr 24, 2015. The pinnacle of "Guardian package" is this podcast – please listen to first few minutes, it is such a blatant PR that it is actually funny. Such PR channel, while not to the same extreme, is leveraged by some other remittance providers. What makes TransferWise's approach more unethical is presenting such articles as if they were a genuine reporting: here, here.
5. TransferWise's performance
Media loves to repeat TransferWise's PR story of disruption and imminent threat to Western Union. Let's look at the facts. TransferWise claims to be growing very rapidly, enough to surpass Xoom's monthly volume around March of 2015 and Ria Money Transfer in Q2, 2017: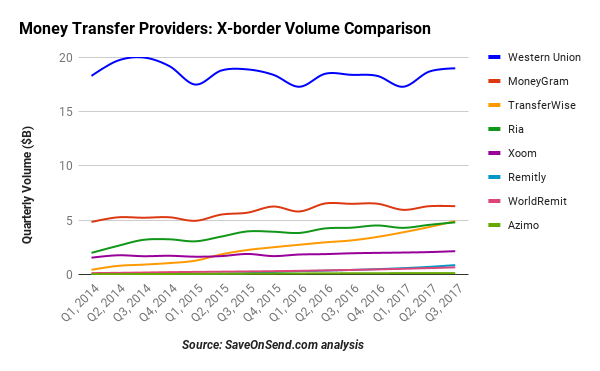 By late 2017, TransferWise was transferring around $2 billion dollars monthly with 900 employees: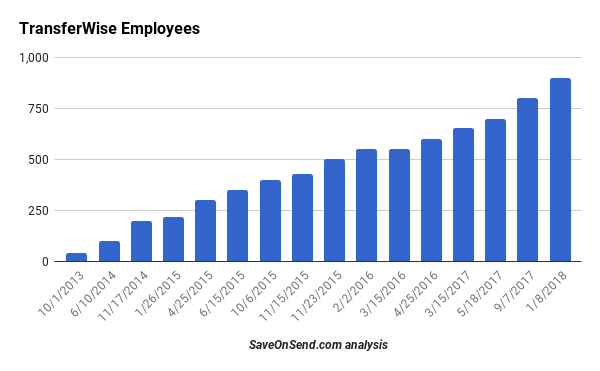 TransferWise is also rapidly diversifying across top outbound destinations, opening hubs in US and Asia and reaching 750 corridors by November 2017.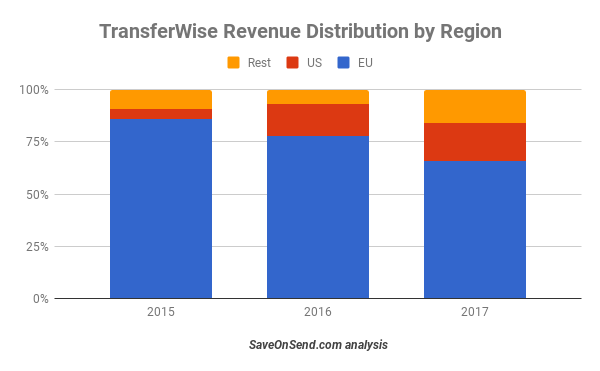 When considering revenues for digital cross-border money transfers, TransferWise is still behind Xoom and digital arms of Western Union and Ria Money Transfer due to TransferWise's much smaller average margin, but it is catching up fast. In October 2017, for the first time, TransferWise's revenue grew faster in absolute terms than of Western Union's Digital arm: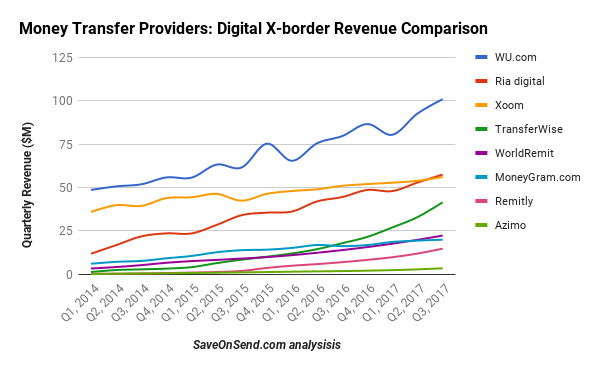 However, considering offline transactions, which still dominate cross-border money transfers, TransferWise's revenue level is still barely noticeable vis-a-vis incumbents: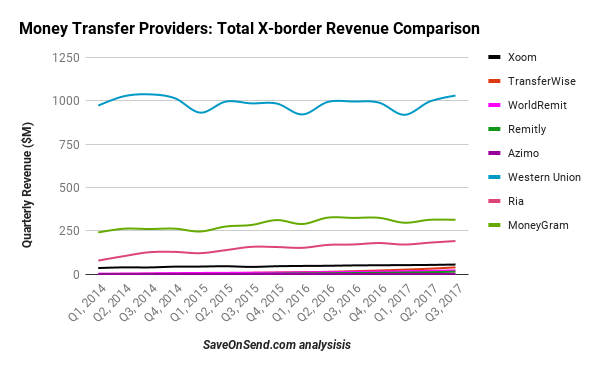 So, no disruption just yet. But could TransferWise catch up with Western Union's revenues in the next 5 years? Here are the key arguments: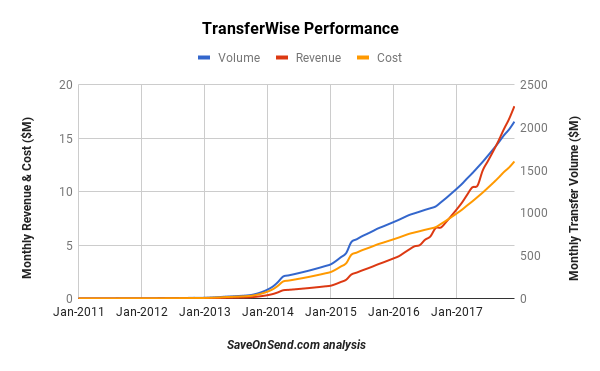 TransferWise has clearly been much stronger at execution than other startups (see this SaveOnSend article). But the biggest mystery remained: why TransferWise felt the need to cut corners while berating competitors and generating fakes, like this ironically titled fake map of "real-time" transactions:
@TransferWise You'd better guys join the bright side of @RevolutApp instead of creating "Trusted all over the World" fake map! 😂🤣 #Busted pic.twitter.com/BBraJLsVJU

— DARIO KOROLIJA (@korolijadario) June 5, 2017
… or listen to this Fintech Insider podcast from October 2017 where TransferWise managers promote its new price comparison tool. They claimed that even if TransferWise's pricing was not the best, the tool would transparently point a user to the cheapest provider. How did this tool really work? It made up a wrong-higher price for Western Union and didn't show other competitors with better-than-TransferWise prices:
SaveOnSend twitted above feedback, and, surprisingly TransferWise responded within 2 weeks…
we just wanted to close the loop and say the issue you spotted has been resolved. We value transparency and appreciate you flagging so that we could fix it.

— TransferWise (@TransferWise) November 10, 2017
… taking a bold step in recommending a dreaded Western Union as a lower-cost alternative:
So is this Rebel of Fintech starting on a new chapter in its fascinating journey? A more ethical, a bit less edgy, but, hopefully, not too boring. What do you think?
Additional reading list
In Summary
Hopefully, you found this overview helpful and feel more confident in your choices of whether or not to use TransferWise. Please let us know if we got anything wrong or did a good job – leave your comment in the section below.
We will be keeping this post regularly updated, so come back soon!